Intergalactic Online MSK Conference article now in print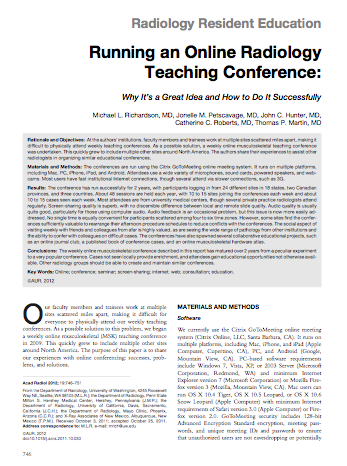 Our article: "Running an Online Radiology Teaching Conference: Why It's a Great Idea and How to Do It Successfully" has been published in Academic Radiology and is now online.
We've been running this conference more or less weekly for the past 2.5 years. We have evolved from a cross-town meeting between 2 hospitals into an international conference, with check-ins mostly from the U.S. but occasionally from Canada, Australia, Italy, India and Pakistan. The GoToMeeting software has mostly worked pretty well.
The social aspect of this gathering is the glue that holds everything together — we truly love hanging out with our pals once a week. It makes the actual face time we spend together at national meetings all the sweeter. Also valuable is the wide range of pathology we see from other institutions and the ability to confer with other MSK Jedi on difficult cases.
Our conference has also spawned several collaborative educational projects, such as an online journal club, two published books of conference cases, an online musculoskeletal hardware atlas and now this peer-reviewed paper. We are pleased that this wacky experiment has morphed into such a valuable adjunct to our academic practices.
Richardson ML, Petscavage JM, Hunter JC, Roberts CC, Martin TP. Running an online radiology teaching conference: why it's a great idea and how to do it successfully. Acad Radiol 2012;19(6):746-751.